Company name:Anhui Zhongde Machine Tool Co .,Ltd.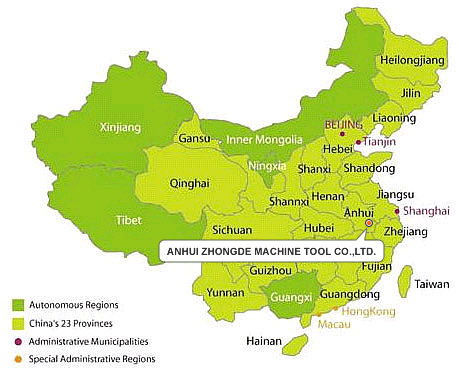 Add:Bowang District Industrial Area, Ma'anshan, Anhui, China
P.C.:243131
URL:english.zdmt.cn
E-mail:info@zdmt.cn
International Business Department:
Tel:+86-555-6760699
Fax:+86-555-6760698


How to visit our factory?
There are 3 ways:
1. By plane. Our location is near Nanjing city, especially Nanjing Lukou Internation Airport. It is half an hour driving from this airport to our company. When you are there, we will go to pick you up.
2. By train to go to Nanjing South Station. If you are in Shanghai, the fast train requires less than 2 hours to reach this station. Then, it will be 45 minutes for us to take you there to our factory.
3. By bus to go to Nanjing South Coach Station (same place where Nanjing South Station located).
Otherwise, contact us and tell us where you are, we will help you to have a reasonable route.
Copyright © 2000-2017 Anhui Zhongde Machine Tool Co., Ltd. All Rights